Our History: Ridpath's Auto Center
Ridpath's Auto Center - 1981
Ridpath's Auto Center - Present Day
Ron Ridpath began car repair when he was only 14 years old by tinkering on his friend's cars in his parent's garage in Glenolden. The family garage was so small that most times a car could not pull all the way in. While attending high school Ron started working at an auto dealership where he rose to the rank of service manager after graduating high school.
Ron established Ridpath's Auto Center in 1981 without a customer following. The phrase "shoe-string budget" would be generous. High quality car repair craftsmanship combined with honesty and respect immediately proved a recipe for success. Ron hired several technicians to service the growing clientele. Ron realized that dealership philosophy was not always to put the customer first and Ron knew he could do things a better way.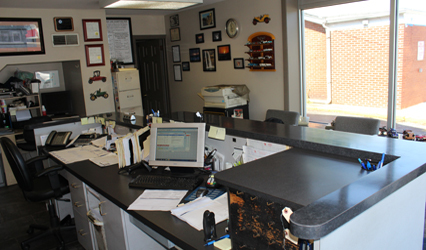 Main Office
Automotive Garage Facility
Over the years the business grew as more and more of the public learned how Ridpath's Auto operated with a high level of integrity. An expansion to the building in 1997 accommodated a growing clientele and marked Ron's son Michael joining the business to assume many of the daily operations. Ron's focus and commitment to the customer to offer high quality service for customers, friends and neighbors passed with pride from father to son.
Over the many years since opening the doors, vehicles have changed dramatically; technology used for repair has grown very complex. Practically every aspect of the industry has changed. One constant remains, the Ridpath's Auto Center commitment to the customer to keep them the primary focus of their business.