Auto Repair Mechanic in Springfield, PA
2015 Talk of the Town award winner for favorite neighborhood auto repair shop! Ridpath's Auto Center was established in 1981 in Springfield, PA. We're a family owned and operated auto repair shop with a sterling reputation. Our car and truck repair services combine superior workmanship with unrivaled customer care. Ridpath's is the leading automotive mechanic in Springfield, PA. We're a full auto repair services facility including safety and emission inspections, brake repair, or tire rotations. We also provide check engine light service, oil change, tire pressure monitor system, wheel alignment, steering and suspension, transmission repair, auto cooling systems and much more.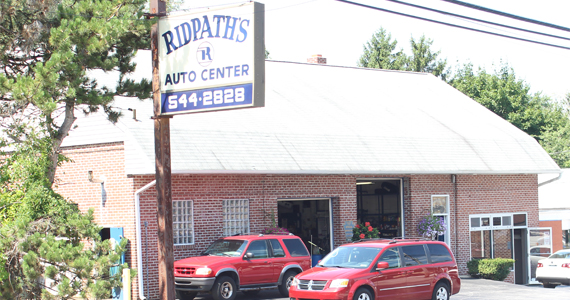 Ridpath's Auto Center: The Trusted Experts
Family Owned and Operated since 1981!
Ridpath's Auto Center performs a multitude of automotive repair services. Our expert mechanics are among the most knowledgable and thorough in the industry, and our customer service is second to none. Trust Ridpath's for quality car and truck repair your family can count on for years to come!
Auto Services Include:
Car Care Tips

Car Care Recipe
The Recipe To Keep Your Car Cruising
Learn More › ›

Automotive Air Conditioning
Keep Your Vehicle Cool
Learn More › ›

Tire Pressure Monitor System
Maintain Your Vehicle Tire Pressure
Learn More › ›

Void Vehicle Warranty?
Learn More About Your Vehicle Warranty
Learn More › ›

Check Engine Light
Learn What The Check Engine Light Really Means
Learn More › ›

Preparing Your Vehicle For A Road Trip
Be Ready For The Long Haul
Learn More › ›